ROOF REPLACEMENT
WHEN STORM DAMAGE IS BEYOND REPAIR
Wind, hail and heavy rain can cause extensive damage to your roof. When a storm damages your roof beyond repair, a roof replacement is in order.  There are some very important facts that will help you know the difference between when roof repairs will do the job…and, when it's time for a new one.  We at Peterson Homes Restoration & Roofing are here to walk you through it so you will know for sure..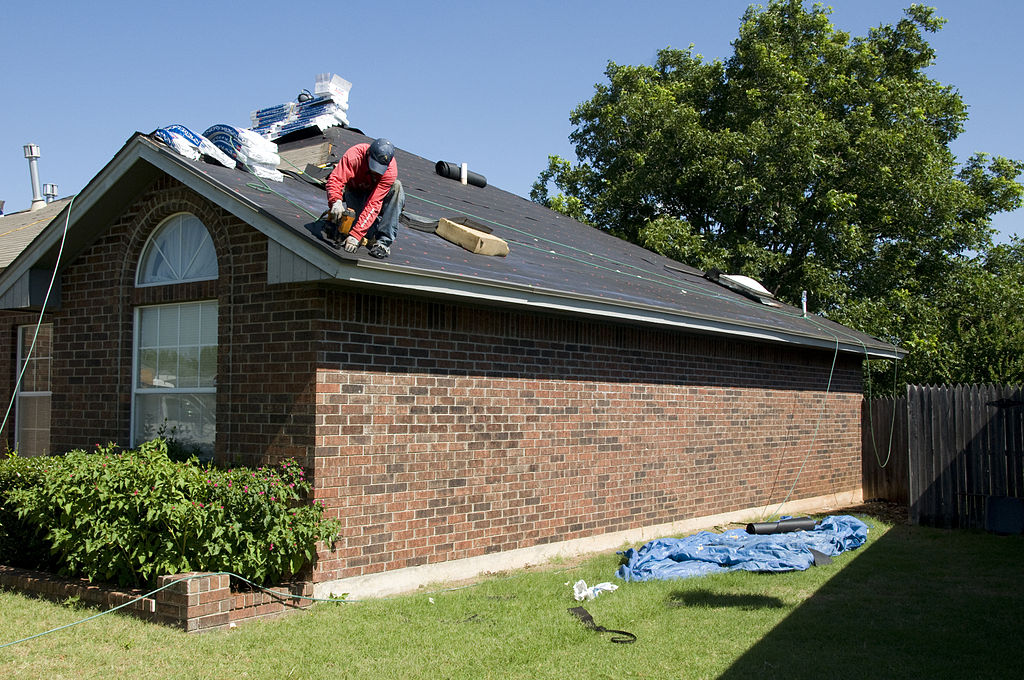 REASONS FOR DAMAGE ROOFS
A number of situations can cause damage to roofs.  Storms are top on the list.  If you live in the Lexington area, you've probably experienced your fair share of extreme storms.  Here are some culprits that can wreak destruction on you home:
WIND 
Winds can kick up to crazy speeds causing shingles to curl or come off.  Roofing felt and roof sheathing material can also blow away.  In extreme situations, entire roofs have flown off due to high winds
HEAVY RAIN
Your roof takes a beating when rain pours down hard upon it.  While roofs are built to withstand normal rain, the super storms that come around dish out more than many roofs can take.  Shingles can be knocked loose.  Rips and tears can occur.  Damage that takes place often gives way to leaks which can lead to a myriad of issues.
CONTINUAL RAIN
Rain that just keeps coming for days in a row doesn't even have to be all that heavy to accumulate on your roof.  When it does, the trouble begins.  Your roof can be compromised in various ways causing leaks to occur and a number of problems to follow.
Hail is horrible for a roof.  Even the best roof is sometimes no match for baseball sized hail that comes to the area from time to time.  Holes, rips, tears and wearing down of materials tend to occur during heavy hail storms.  The damaged roof is likely to leak and expose your home to the outdoor elements such as heat or cold.

Snow can easily build up on a roof causing it to give way.  The pressure is just too much, especially because the extreme cold makes the roof more brittle.

Ice damage can even be worse than snow on a roof.  Ice is heavier and is more jagged so it easily jabs holes, curls shingles and can even make a weak roof cave in.

Extreme heat can be hard on your roof.  Especially when it's followed by cold and/or wet conditions. 
If your roofing is getting old in age, it may be time to replace it all together.  Roofs are only designed to last for a certain length of time.
Careless Actions. Perhaps you've had a tree service out recently that didn't take heed to prevent heavy limbs and branches from falling onto your roof.  Or, you may have had another type of worker up on your roof doing something (like checking your chimney) and they caused a careless mishap and now, you have a hole in your roof.
Improper Installation. If your roof was not installed properly to begin with, you will have damage long before you should.  Lousy roofs give way to curling shingles and shingles that will fly off easily.  They also don't want up to wear and tear of severe weather very well.
Cheap Materials. Roofs that are comprised of cheap material will not last very long.  We at Peterson Homes Restoration & Roofing use nothing but the best in top-quality materials when it comes to roofing materials for your home. 
SIGNS OF ROOF DAMAGE
The problem with looking for signs of roof damage is that often it cannot be seen by someone who is not a trained professional in the field.  If you have been through a severe storm lately, have damage to other areas of your home (like windows) or if your neighbors have roof damage from the storm, there's a chance that you may as well.  You will want an expert in roofing to take a look at your roof.  We will be happy to come out and give you a free assessment.
Some signs of roof damage that you can look for are:
Curling of shingles.

Shingles that are flapping in the wind.

Discoloration of roofing materials.

Structural damage.

Holes, rips and tears.

Leaking inside your home.

Mold on or around the roof.
TYPES OF ROOFS
We service both residential and commercial roofs in and around the Lexington area.  We work on all types of roofs.
WE'VE GOT YOU COVERED
We work with home and business owners in the Lexington and Central Kentucky area to assure that roofing is done right.  Oftentimes replacing a roof is covered by your insurance.  That's another area we shine in.  We have been working with insurance companies for decades.  We will make sure you are able to claim all that you can and that the job is done to perfection.  We never ask for a deposit until you have your check in hand.  We'll even file the claim for you.
GIVE US A CALL
Our staff is courteous and kind and are available to answer any questions or concerns you may have.  Our roofing team is composed of hard-working professionals.  We have been in the area since 1984.  We are at your service.  Give us a call today and set up a free assessment or a free roof replacement quote.
In the event that your roof needs extensive repairs. It's often best to replace the entire roof. We've got you covered on that as well. We work with all types of roofs and will get your roof on quickly.
The materials we use are top-quality and come with manufacturer's warranties. Our roofing crew members are professionals who will do a great job for you. We guarantee it!
WHEN IS IT TIME FOR A TOTAL ROOF REPLACEMENT?
How do you know when it's time to replace your roof?  There are a number of factors that can determine the answer.  Here are some things to consider:
How old is your roof?  If your roof is a mere five years old and is having leaking issues, there may be an underlying problem such as shoddy workmanship upon installation or poor quality materials.  A 20-year-old roof, however, may have seen its better days.  You may be better off to replace than to repair.

Extent of water. If you are seeing a lot of different issues such as numerous places that are leaking, brown spots in more than one place, etc., you may be better off to totally replace your roof.  Our experts can take a look and give you a professional view on the situation.
Extreme conditions. If you have just experienced severe weather like a tornado or major flooding, even if your roof isn't that old, Mother Nature may have taken her toll.  The only smart and safe thing to do may be to completely replace the roof.
In the event that your roof does need to be replaced, you will certainly need the help of an expert.  Doing your own roofing work can cost more than you may be up for paying for, like medical bills from falling.  If a roof is not done properly, it might as well not be done at all.  Call an expert.  Call us!
PETERSON HOMES RESTORATION AND ROOFING
501 Brannon Rd,
Nicholasville, KY 40356
Working Hours:
Monday 7:30am–6:30pm
Tuesday 7:30am–6:30pm
Wednesday 7:30am–6:30pm
Thursday 7:30am–6:30pm
Friday 7:30am–6:30pm
Saturday 8am–12pm
Sunday Closed
Roofing Quote Made Simple
Send Us a Quote Request
Call or text our office at (859) 251-6001 for any questions or to request your free quote. Or email us as at [email protected]
Free Roofing Quote No Obligation
A member from Peterson Homes Restoration and Roofing will personally consult with you on-site regarding your roof damage.
Written Quote & Explanation
After a thorough inspection, you'll have your roof replacement quote in no time. Please consider all the factors when obtaining quotes from multiple roofing companies. All quotes aren't created equal.
Schedule Your Roof Replacement
We can schedule the roofing replacement in less than a week and have your roof done before most companies even show up to give you a quote.
Love & Enjoy Your New Roof
Quality is paramount! Enjoy your new roof and the guarantees that come along with doing business with the best roofing contractor in Lexington, KY