GUTTERS
The purpose of gutters is to protect your home from the elements, namely rain and other water sources. Run-offs from your roof can cause a wide array of problems. Even when you have gutters, they may fail to work due to a number of issues like:
Clogs from dirt, debris and leaves.

Ice blocks that stop them from draining properly.

Severe weather damage

Hail  damage

Heavy winds that often blow twigs, limbs and other objects into them.

Normal wear and tear and aging that causes them to fail or need replacement.

Improper installation, causing them to fail or function improperly.

Low-quality workmanship or faulty materials

Ladders and other things placed against them, causing stress issues. Gutters that are in need of repair or replacement can cause a world of problems. When water cannot be channeled from your roof properly, your roof can actually cave in from the pressure.


In addition, you may experience:

Leaking

Electrical damage due to wet wires and outlets

Bowing of your roof

Curling or cracked shingles

Foundation issues

Lawn and garden problems

Mold and mildew
Not all gutter damage can be seen by those who don't know what to look for. Especially if you have experienced severe weather lately, chances are your gutters may have suffered some damage. Don't get caught off-guard. We are gutter experts. Let us take a look at your gutter system and if you need repairs or a complete replacement, we'll give you a free quote at no obligation.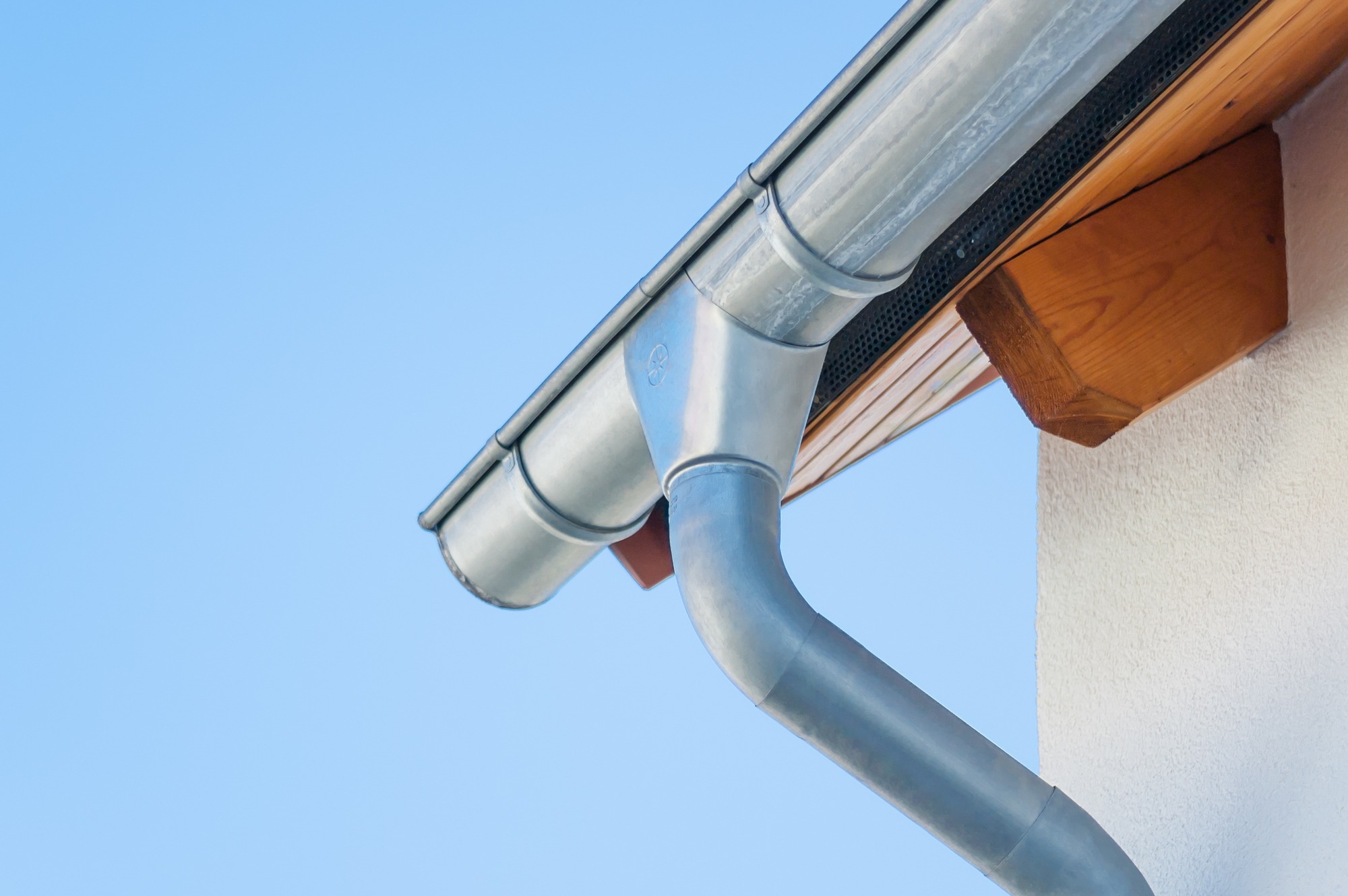 IS YOUR MIND IN THE GUTTER?
If you are having problems with your gutters, don't throw your money down the drain with shoddy repair service.  We are here to help you.  At Peterson Roofing Restoration & Roofing, we provide professional gutter repairs for an affordable price.  We'll get your gutters up and flowing in no time.  And, we'll do it right, guaranteed.
WHAT PURPOSE DOES A GUTTER SERVE?
The main reason your home needs a gutter is to channel water off of your roof away from areas of your home that it would damage if allowed to flow freely.  There are a number of issues that can occur when gutters are in need of repair or when none are present at all.
TOP TROUBLES WITH GUTTERS
A well-maintained, good quality gutter can last up to 30 years or longer.  Extenuating circumstances can shorten the life of one though.  Here are some root problems that can occur with gutters:
Leaves and other forms of debris will usually decompose but they will also form a matt of gunk that can clog your gutter.

Excessive rain conditions and hail storms can easily give way to overworking your gutters.  Ice formations can clog gutters too.  Furthermore, extreme heat or cold can cause your gutters to meet an early demise.

Sagging and warped. Warped and sagging gutters may be due to any one of a number of issues but the fact of the matter is if yours are, you are headed for trouble.  Gutters that are compromised don't do their job.
Sometimes gutters just give out due to age.  If your gutters are nearing the 30-year mark or have been exposed to extreme conditions…it's time to check them.

Has anything unusual been going on around your home?  Construction or remodeling projects can often end up causing damage to gutters when boards, ladders or workers rough them up.  Rain, wind and ice storms can cause limbs to fall on gutters too.

Pest infestation. Drains can attract insects, especially when they are clogged and the water is stagnant.  Along with being a nuisance, pest infestation can strain gutters.
Seams splitting. Age, weather and rusting can cause gutter seams to split. A gutter with split seams will obviously not do its job.
DESTRUCTION THAT DAMAGED GUTTERS CAN CAUSE 
Gutters that don't function properly can stem a long list of problems.  Remember, gutters are in place to serve a very important purpose.  They protect various areas of your home from being harmed by water.  Some issues dysfunctional gutters can cause are:
Damage to paint

Dry-rot on the roof, soffit and fascia boards

Erosion of soil

Damage to your lawn and garden

Flooding in the basement

Foundation settling and cracking

The potential for fire when the weather is dry

Door, window and siding damage

Mold and mildew damage
 GUTTER SERVICES
If you even suspect you are due for gutter repair, you will certainly want to check into the matter.  Here are some of the gutter services you may need:
Gutter replacement (all or partial)

New gutter installation

Repair of gutter

Gutter cleaning (including downspouts)

Inspections
TYPES OF GUTTERS
Residential and commercial gutters can be constructed of various different kinds of materials.  Some are made of:
Seamless Aluminum: This choice is perhaps the most popular on the market.  It is durable and relatively inexpensive.  Another plus is that it doesn't rust.
Vinyl: Definitely one of the least-expensive of materials, vinyl is quite easy to work with and assemble.  It tends to become brittle though in extremely cold areas.  Though it's not as durable as metal, it is a viable option for those who wish to cut costs.
Copper: One of the most durable of gutter materials, copper is very pleasing to the eye.  It is going to turn but many homeowners like the rustic effect.  Copper is extremely strong and is at the high end, price-wise.
PVC: PVC gutters are a branch of vinyl ones.  They are built to withstand very extreme weather conditions.
Galvanized Steel: Galvanized steel is a great option for areas with extreme weather.  While it will often times begin to rust after 20 years or more, it is very durable and strong.
Wood: Wood gutters, like the ever-popular redwood types, have a very aesthetic appeal and they get the job done but they can be a bit high-maintenance.  Wood look-a-like is available too.
SIZING THINGS UP
There are two main types of gutter shapes that are on the market: K-style and half-round.  The K-style is actually smaller but drains the same amount as a half-round which is larger.  Half-rounds (or, U-shapes) are known as traditional since they first appeared in the early 1900's.  K-style gutters have been around since the 50's.
There will be other decisions you will need to make if you are replacing your gutters.  Downspouts can be chosen in round or rectangle shapes.  You will need to also choose the length and width of you gutter.  Don't worry if you are feeling overwhelmed with the options.  An attentive gutter specialist, like the ones at Peterson Roofing, will be happy to help you decide according to what best suits the needs of your individual home.

WHY US?
At Peterson Roofing Restoration & Roofing our mind is always in the gutter, or on gutters, you might say.  We know how important it is to keep your water run-off actually running off so you don't experience the destruction that damaged gutters can bring.
When choosing a company to replace or repair gutters, it is imperative to go with one who is certified, licensed and local with a great reputation.  We provide that for you…and more.  Our services are guaranteed and our products carry warranties as well.
You will find our gutter team members are courteous, hardworking professionals.  They will get the job done quickly and will never leave a mess behind.  If you have questions or concerns, feel free to get in touch with our customer service representatives who are standing by to help you.
At Peterson Roofing, we'll get your gutters flowing without draining your bank account.  Call or contact us today for a free quote.
PETERSON HOMES RESTORATION AND ROOFING
501 Brannon Rd,
Nicholasville, KY 40356
Working Hours:
Monday 7:30am–6:30pm
Tuesday 7:30am–6:30pm
Wednesday 7:30am–6:30pm
Thursday 7:30am–6:30pm
Friday 7:30am–6:30pm
Saturday 8am–12pm
Sunday Closed
Roofing Quote Made Simple
Send Us a Quote Request
Call or text our office at (859) 251-6001 for any questions or to request your free quote. Or email us as at [email protected]
Free Roofing Quote No Obligation
A member from Peterson Roofing will personally consult with you on-site regarding your roof damage.
Written Quote & Explanation
After a thorough inspection, you'll have your roof replacement quote in no time. Please consider all the factors when obtaining quotes from multiple roofing companies. All quotes aren't created equal.
Schedule Your Roof Replacement
We can schedule the roofing replacement in less than a week and have your roof done before most companies even show up to give you a quote.
Love & Enjoy Your New Roof
Quality is paramount! Enjoy your new roof and the guarantees that come along with doing business with the best roofing contractor in Lexington, KY